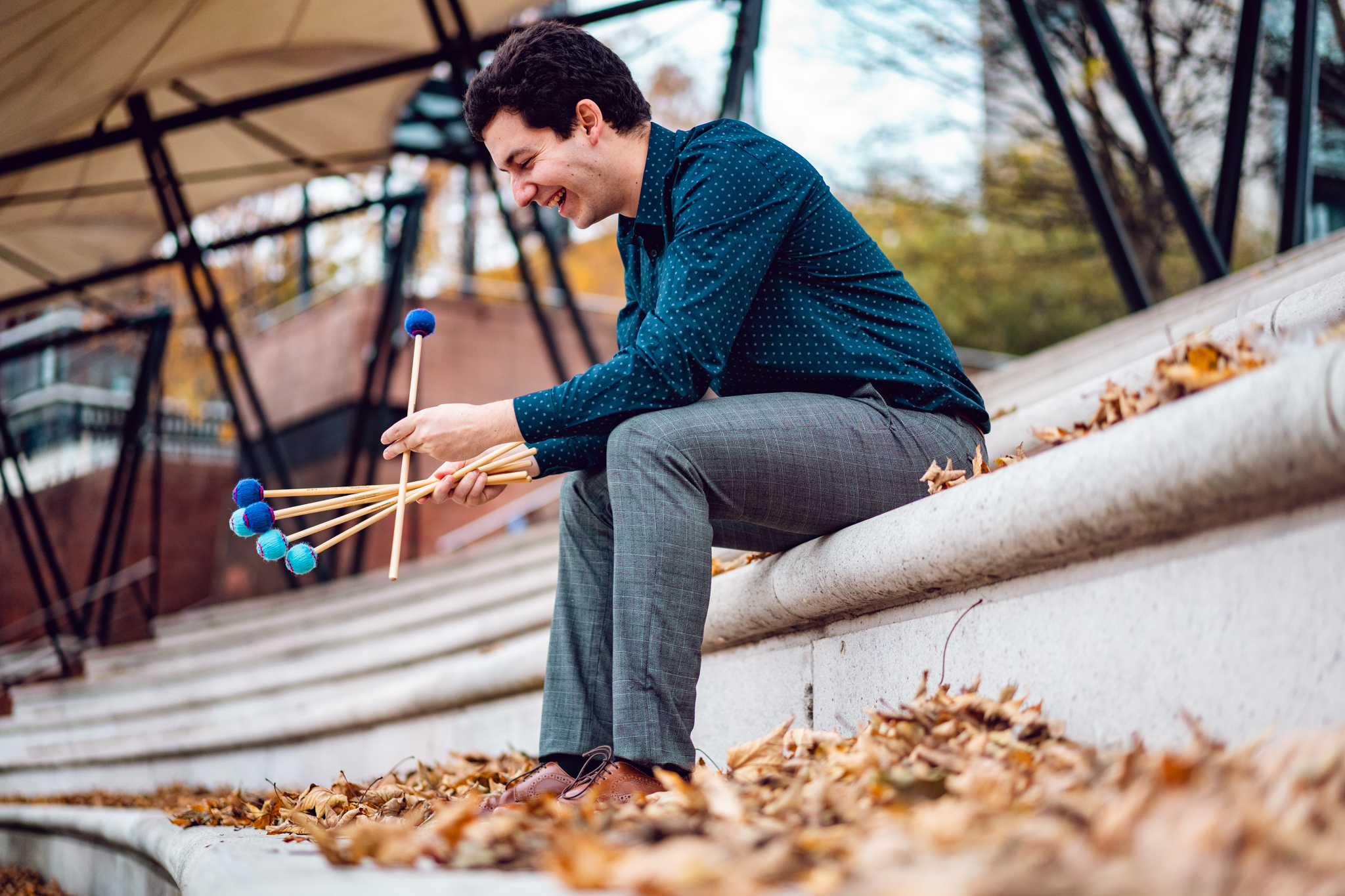 Laurent Zufferey is a Swiss conductor graduated from the Royal Northern College of Music in Manchester (UK).
Born in Sion (Switzerland) in 1993, Laurent first encountered music through the very strong brass band and wind orchestra scene around the city.
Despite coming from a non-musical family, he continued to take an interest in music and started playing percussion in his local wind band of the Harmonie Municipale de Sion, and later in the prestigious Valaisia Brass Band. After winning numerous soloist competitions as a teenager, he came to classical music by frequenting renowned festivals such as Verbier, Gstaad and Crans-Montana.
Although his career path led him to complete a Bachelors degree in Engineering, music started to become a bigger part in Laurent's life. Alongside his studies, he was the Musical Director at a local band for 4 years.
In 2016, he entered his first competition as a conductor and was awarded 3rd Prize at the Augsburg International Competition by a panel of experts including Atso Almilla (FIN) and Matty Cillissen (NL). This experience was a turning point in Laurent's career, as he decided to pursue music professionally after this event.
He consequently entered the Royal Northern College of Music as a percussionist, where he graduated with a Masters of Music in Performance in 2017.
In 2018, he was successful in gaining a scholarship place on the Conducting Programme with Mark Heron and Clark Rundell, from which he graduated with distinction in 2020, unfortunately just after the start of the coronavirus pandemic.
In 2020, in the midst of the crisis, he was invited at very short notice to make his Swiss debut with Kammerphilharmonie Graubünden and Sinfonietta de Lausanne.
Shortly after, in 2021, just after the reopening, Paavo Järvi invited him to his first Conducting Academy at the Tonhalle Zürich, in which he was awarded with the Audience Prize.
A few months later, it was Teodor Currentzis who, at less than 24h notice, invited him to the residence of MusicAeterna in Lucerne. During the public masterclass, Laurent had the opportunity to conduct the first movement of Mahler 5th Symphony, in the KKL Concert Hall.
In September 2021, he was appointed as new Musical Director and Artistic Co-Director of Ensemble Valéik (CH).
In November 2021, he made his debut at the KKL Lucerne for a concert with RedBull Symphonic, in collaboration with the hip-hop artists Loredana, Lillo Scrimalli, Camerata Schweiz and Schweizer Jugend Sinfonie Orchester.
From the start of the season 22-23, Laurent is the assistant conductor of the Orchestre Royal Philharmonic de Liège (B) and of the Basel Sinfonietta (CH).
In september 2022, Laurent made his debut as an opera conductor, assisting Pierre Bleuse in Ouverture Opera's production of "Die Zauberflöte", of which he conducted five shows.
Laurent has had the opportunity to collaborate as conductor with renowned orchestras such as the Manchester Camerata (GB), the Sofia Philharmonic (BG), the Augsburger Philharmoniker (DE), the Musikkorps des Bundeswehr (DE), the Moravian Philharmonic (CZ), the Sinfonietta de Lausanne, the Kammerphilharmonie Graubünden, the Crans-Montana Classics Festival and the Argovia philharmonic (CH).
He is supported by the Minkoff Fondation and the Leverhulme Trust Fund.