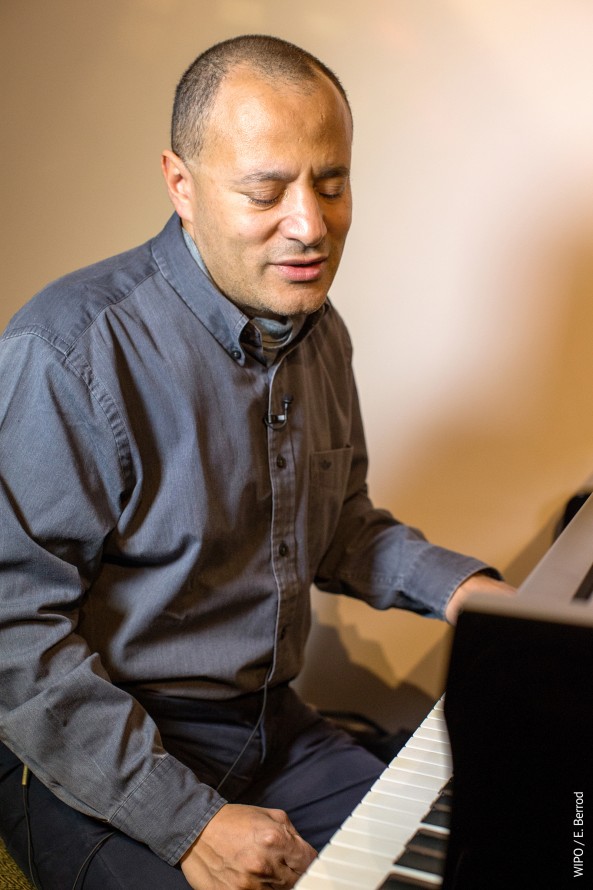 Born in 1961 in Tunis, Tunisia, Moncef was blind at birth. Flown to Switzerland to receive treatment on his eyes at the age of 2, he was adopted by a Swiss family shortly after. At 6 he began to take piano lessons, strongly encouraged by his adoptive father, a big Jazz fan who would often play records by Louis Armstrong or Fats Waller at the family's house. Blessed with a remarkable auditory memory that allowed him to learn and replicate any piece by ear, Moncef started to develop his own style. In 1987 he obtained a music teacher's degree from the Conservatory in Geneva, where he still teaches Jazz improvisation today.
A professional musician since 1983, Moncef quickly asserted himself as one of Switzerland's leading Jazz artists, thanks in part to the body of work he assembled with his Trio. In the course of his career he has played with the likes of Bob Berg, Alvin Queen, Reggie Johnson, Harold Danko, John Stubblefield, Joe LaBarbera, Michael Brecker, Larry Grenadier, Dee Dee Bridgewater, Bill Stewart, Idris Muhammad, James Cammack, Jack DeJohnette, Tom Warrington, Scott Colley, and Grégoire Maret, among many others.
In 1993 his Trio was the opening act for Tete Monteliu and Michel Petrucciani. The rest of the 1990's saw him tour all of Europe as well as India, Australia, Africa, Japan, the United States and Canada as a headliner. In 1994 he delighted the audience at the Vancouver and Montreal Jazz Festivals with brilliant performances. The following year he performed in Africa, where he and Youssou N'Dour became close friends. The two have since then played together on numerous occasions, developing a new African-Jazz sound, and were the main protagonists in the acclaimed 2006 documentary entitled "Return to Gorée" (CAB Productions). The project followed several musicians as they travel the route of West-African slaves from Senegal to the United States, while revisiting the musical evolution from Negro spirituals to Gospel to Jazz along the way.
In 1997 Moncef was selected to officially represent the Montreux Jazz Festival in New York, Detroit, and Atlanta. Since then Moncef has continued to grow and build his own catalogue, recording with formations ranging from the duet to the sextet, to even the symphonic orchestra. He lists Art Tatum, Oscar Peterson, Chick Corea, Herbie Hancock, Bill Evans, Keith Jarrett, and Brad Mehldau as his influences, and is undoubtedly on his way to join some of these illustrious names as one of the major Jazz pianists of this generation.
2005 began with Moncef signing an exclusive recording, publishing, and management deal with Los Angeles-based Rollin' Dice Productions. His first project for Rollin' Dice was "Aqua," Moncef's 10th studio album. It brought together an impressive line-up consisting of Moncef, Grammy® Award-winners Michael Brecker and Dee Dee Bridgewater, along with Bill Stewart, and Scott Colley. The project, recorded in New York City, was produced by C.Chill. It demonstrated the level of Moncef's maturity as a Jazz composer, arranger and performer. Dubbed his most ambitious record to date, "Aqua" comprised seven original compositions and three covers. In 2005 Moncef signed a contract for the U.S. territory with legendary label Savoy Jazz, which released "Aqua" in 2006. The record was praised unanimously by the most highly regarded U.S., Japanese and European Jazz publications, and proved a major step in developing Moncef's already growing popularity. In the years that followed Moncef played at some of the most distinguished venues in the world, such as the Montreux Jazz Festival (in 2007 with the "Return to Gorée" All-Stars, and again in 2008 in solo), the North Sea Jazz Festival, the Atlanta Jazz Festival, Dizzy's/Jazz at Lincoln Center in New York, the International Festival in Carthage, Tunisia, the Cully Jazz Festival, the Opera House in Damascus, Syria (as part of a UNHCR humanitarian project benefitting refugees), and the Victoria Hall in Geneva, where he shared top-billing with Brad Mehldau and Anouar Brahem.
2011 saw Moncef release an album titled "Métissage" (French for "crossbreeding" or "miscegenation"). A genuine crossing of various moods, styles, and even instrumentations, the record featured singular arrangements of jazz classics intertwined with Moncef's melancholic compositions ("Métissage," "Chermignon"). The album closed with "Diabaram," the famed Youssou N'Dour/Ryuichi Sakamoto collaboration, arranged by Moncef for the musicians of "Return to Gorée" (N'Dour, harmonicist Grégoire Maret, legendary drummer Idris Muhammad, and bassist James Cammack). The title track, "Métissage," inspired Swiss award-winning director Reto Caduff to create a music video to accompany the album release. In addition to playing high-profile venues in Switzerland and Europe, Moncef returned to California in 2012 for a series of master classes and performances under the auspices of the Consulates General of Switzerland in San Francisco and Los Angeles, notably performing at the iconic Yoshi's in San Francisco.
In 2014 Moncef released "Pop Song," his 12th album as a leader, in which he adapts several classics of the Pop repertoire into Jazz. The tunes, ranging from "Message In A Bottle" by The Police to Nirvana's "Smells Like Teen Spirit", to "Little Wing" by Jimi Hendrix or The Doors' "Light My Fire," mark an interesting and playful departure from Genoud's traditional jazz trio sound. The CD's "Live in Cully", "Walk with me" and "Concert de Valère" crown his discography. His 17th album is in preparation.
An avid traveler who loves to discover new places, cultures, and flavors, Moncef looks forward to reaching even more people with his music, on the road of his tour schedules and exciting life journey.