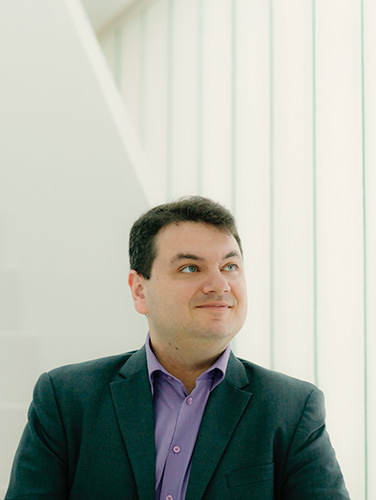 Sergei Bresler was born in Ukraine in 1978 and started the violin at the age of 5 with prof. A. Leschinsky. 7 years later, he gave his first recital and played the Wieniawski Violin Concerto No 2 with the Kharkov Symphony orchestra.
In 1991 he immigrated to Israel where he pursued his studies at the Jerusalem Rubin Music Conservatory with prof. M. Liberman. From 1991 he has been a recipient of the America-Israel Culture Foundation scholarships.
Sergei Bresler got several prizes including the second price at Clairmont Competition for young violinists. In 1996 he continued his studies at the Jerusalem Music Academy with Prof. M. Liberman and Haim Taub.
As a student, Bresler participated in several festivals and masterclasses such as Keshet Eilon (Israel), Tuachan (USA), Zeist (Holland) with such prominent musicians as Isaac Stern, Miriam Fried, György Kurtág or Tabea Zimmermann. Sergei Bresler has performed as a soloist with the Jerusalem Symphony Orchestra, the Young Philharmonic Orchestra and the Ludwigsburg Symphony Orchestra. He is second violin and founding member of the internationally acclaimed Jerusalem Quartet.
As a chamber music teacher Sergei Bresler has given master classes in many famous venues as the Royal Academy of Music in London, the Sydney Conservatory, the Melbourne Australian Academy of Music, the Cleveland Institute of Music, the Zeist summer course (Holland), Valladolid (Spain) and the Jerusalem Music Center.
Sergei Bresler plays on 1770 Lorenzo Storioni violin kindly lent by the America-Israel Culture Foundation. This violin was donated to Foundation by Isaac Stern.