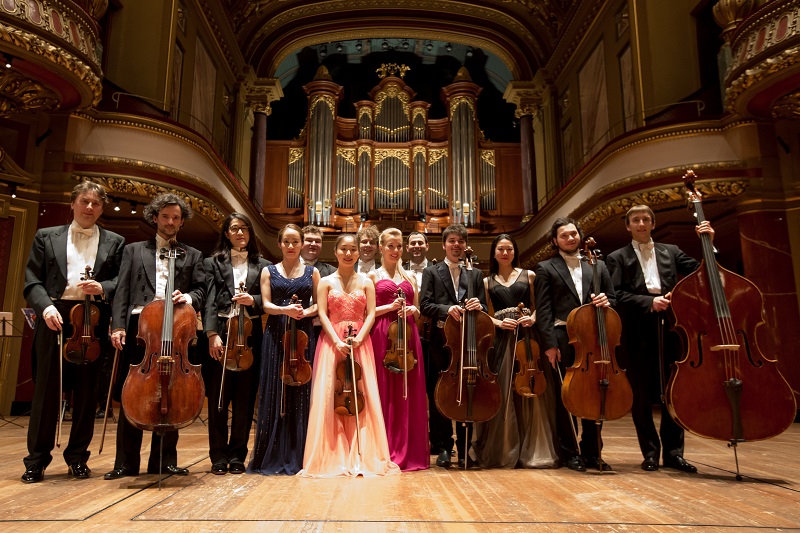 The Menuhin Academy Soloists are an outstanding chamber ensemble from the International Menuhin Music Academy (IMMA) Switzerland, known for their technical brilliance and inspirational musicality.
IMMA was founded by Lord Menuhin in 1977 "to ensure that the great heritage of violin mastery is passed to the next generation" and is a nonprofit organization that provides exceptional young string players from all over the world a 3-year scholarship. For almost 40 years the academy has been training violinists, violists and cellists from all over the world, with the help and guidance of past professors such as Lord Menuhin himself and Alberto Lysy. Today it has become one of the world's most renowned Swiss music institutions with their base at Le Rosey, nr Geneva.
Touring worldwide, The Menuhin Academy Soloists have already debuted in prominent musical centres, such as the Royal Festival Hall, the Theatre des Champs Elysees, the Concertgebouw, the Edinburgh Festival and the Menuhin Festival Gstaad, as well as concert halls in South America, the USA, Canada, Japan and China.
Since 2011 Maxim Vengerov has been the academy's Musical Ambassador and Professor, performing regularly show-stopping concerts together, one of which was recorded and broadcast on Mezzo and Arte TV.
In July 2019, Renaud Capuçon becomes the artistic director of the Academy.