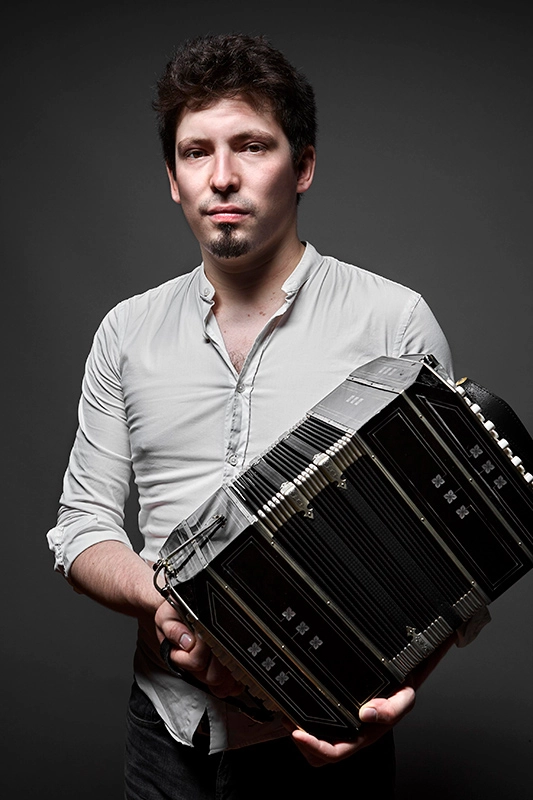 Lysandre Donoso was born in 1990 from a Chilean father and a French mother. Lysandre played his first instrument, the violin, at the age of 6 in the Conservatory of Lyon. The following year he entered the accordion class of Patricia Hivert until his diploma in 2009. Thanks to the bandoneon he inherited from his grandfather, he began to be passionate about tango. Lysandre took lessons with Hervé Esquis from 2008 to 2011, he created his first ensemble "Nonino Quartet" and he also took part in the musical tango workshop directed by the Silencio Orchestra and Ramiro Gallo in Tarbes for several years.
During the summer of 2010, Lysandre decided to stop his engineer studies in Grenoble INP and dedicate himself to the music. He took lessons with renowned musicians as Víctor Villena, William Sabatier and Per Arne Golrvigen. He joined the Tango Department of the Conservatory of Rotterdam (Codarts) in 2011, under the teaching of Gustavo Beytelmann, Víctor Villena and Leo Vervelde amongst others.
In parallel of his studies, he has been multiplying the professional experiences: the Silbando Orchestra, the Quinteto Emedea, Roulotte Tango, the Grand Orchestre de Juan José Mosalini, Quatuor Caliente, the Silencio Orchestra directed by Roger Helou, Lalo Zanelli, Sónico, etc..
Lysandre does not limit himself to the tango world. He was accompanying a theatrical work about Frida Kahlo's life with the company Art Toupan during 2 years. He played in two different operas by Kurt Weill and Bertolt Brecht : "Rise and Fall of the City of Mahagonny" with the Capitole Orchestra in Toulouse and "The Threepenny Opera" in the Théâtre Déjazet in Paris. He played as a soloist in several European projects like Mr McFall's Chamber, Ballare : To Dance, the "Misa a Buenos Aires" from Martín Palmeri, the Sinfonía Buenos Aires with l'Orchestre National de France…