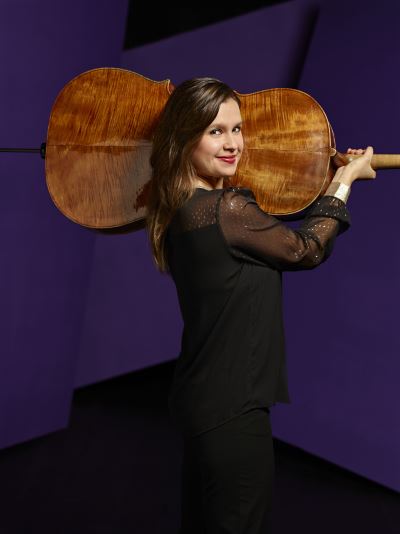 Born in 1988 in Tashkent, Uzbekistan to a family of musicians, Indira Rahmatulla began her cello lessons with her parents at the age of five. In 2004 she was awarded a full scholarship to continue her studies at the University of Houston under the guidance of Vagram Sarajian. Ms. Rahmatulla has concluded her Bachelors degree at The Colburn! School Conservatory of Music in Los Angeles with Ronald Leonard.
Indira has won numerous prizes in prestigious international competitions, including Second Prize at the 2006 Aram Khachaturian International Cello Competition in Armenia, First Prize in 2006 Schlern International Music Competition in Italy and Third Prize in 2006 Luis Sigall International Cello Competition in Chile. As well as the First Prize in the Young Artist Concerto Competition of Torrance Symphony (2010) and First Prize in Pasadena Showcase Instrumental Competition in Los Angeles, California (2011).
Indira Rahmatulla's concert engagements have included numerous solo and chamber music performances throughout Turkey, Italy, Germany, Spain and the United States. She has participated in music festivals such as the Schleswig-Holstein Music Festival in Germany, the Pacific Music Festival in Japan, the Schlern Music Festival in Italy and the Texas Music Festival in Houston, where she played under the baton of leading conductors including Cristoph Eschenbach, Ivan Fischer, Zlotan Kocisz, Thomas Hengelbrock, Fabio Luisi, Jun Markl and Tadaaki Otaka.
In addition, she has collaborated in chamber music with outstanding musicians such as Menahem Pressler, Paul Coletti, Guillaume Sutre and Jean-Guihen Queyras. Indira has participated in master classes with Eldar Nebolsin, Bernard Green- house, Natalia Gutman, Raphael Walfisch, Alexander Rudin, Young Chang Cho, Bonnie Hampton and Wolfgang Boetcher.
Currently Indira is a member of Balthasar-Neumann Ensemble in Germany under the direction of Thomas Hengelbrock and she is continuing her Masters Degree at the Hochschule fur Musik Freiburg in Germany with Jean-Guihen Queyras.
Indira is a founding member of the Trio Areti, currently studying at the Instituto Internacional de Musica de Camara de Madrid, Spain in the class of Ralf Gothoni, Luis del Valle and Ángel Quintana.