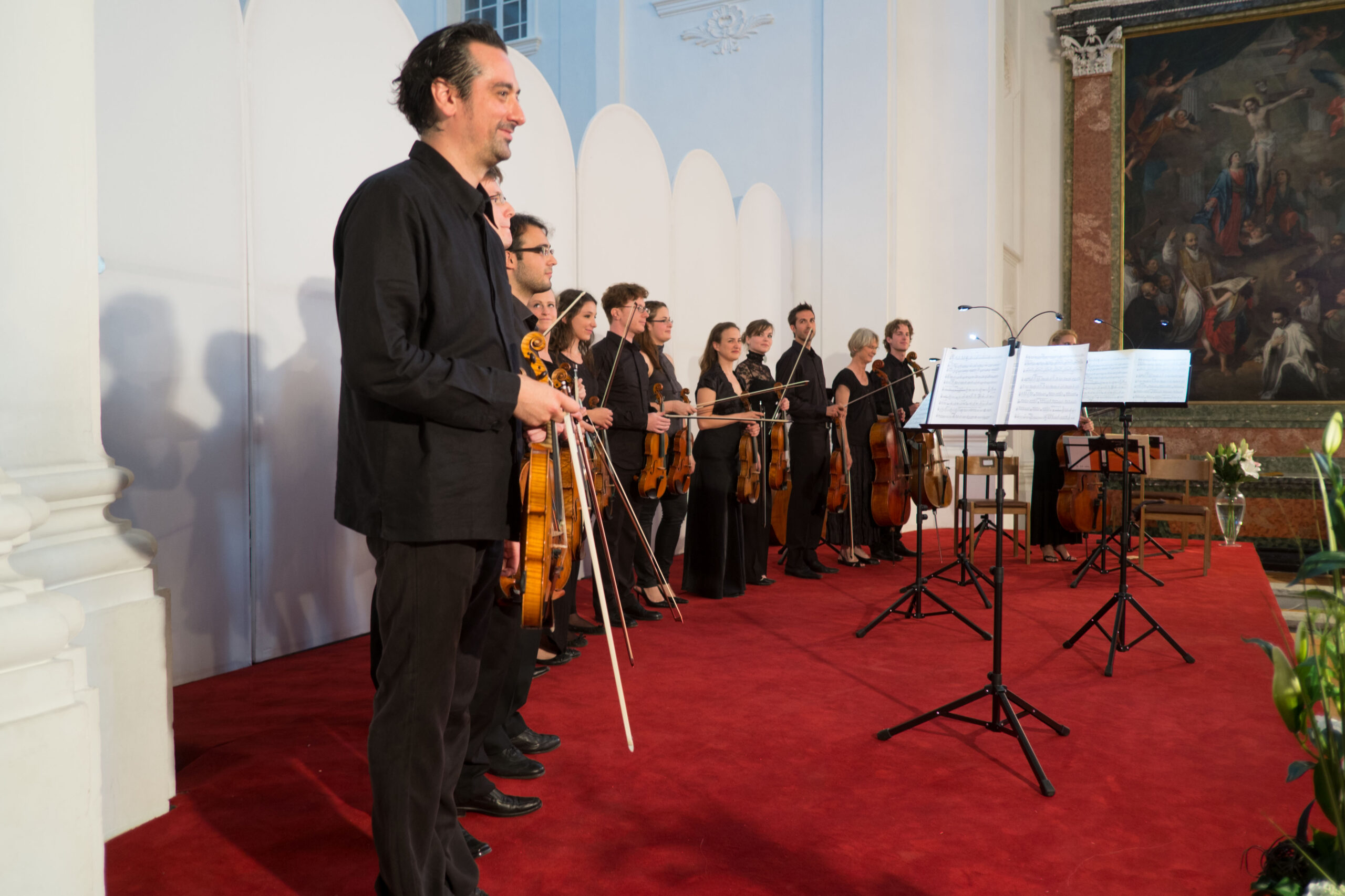 Under the enthusiastic impulse of Francesco de Angelis, who trained with the master Tibor Varga in Sion from a very young age, a string ensemble named "Camerata-Valais" was created in 2011, in order to respond to his wish to continue the work of transmission and teaching, like his master before him. The Valais benefits from the fruits of his career as an international soloist and the numerous connections he has established with the most renowned conductors and orchestras.
First concertmaster of La Scala in Milan, Francesco de Angelis, professor at the Haute Ecole de Musique de Lausanne site de Sion (HEMU) and at the Tibor Varga Academy, President of the Archi della Scala, Artistic Director of the great Consorso di violino Città di Vittorio Veneto, has gathered around him former students of the Tibor Varga Academy and young current students of the HEMU, supervised by a number of professionals of international standing. Professional musicians from the Valais, professors from the Tibor Varga Academy, occasionally joined by musicians from La Scala in Milan for certain concerts, are invited to perform a variety of original programmes, including world premieres.
Since 2012, a number of world-renowned musicians from the "Tibor Varga School", such as Gyula Stuller, Madeleine Carruzzo, Suzy Varga, Latica Honda-Rosenberg, Alejandra Cova, Yuram Ruiz, Mira Wollmann, Lia Hahknazaryan, Anthony Fournier, Alexander Grytsayenko, Patrick Peikert, etc., have performed in the concerts of the Orchestra. have played in the Camerata-Valais concerts, joined by Tibor Varga Academy teachers Marcio Carneiro, Georges Vassilev, Diemut Poppen, Bozo Paradzik, François Guye, etc. Not forgetting the Valais musicians engaged as soloists in several Camerata-Valais concerts, such as Béatrice Berrut, Brigitte Fournier, Stéphane Chapuis, Brigitte Balleys, the VAAG Quartet (Valaisian Brass band), etc.
In 2023, the Camerata-Valais will collaborate with Crans-Montana Classics during the February and April concerts, as well as with faithful partners such as the City of Sion, the Bourgeoisie de Sion, etc.
Future collaborations with several Swiss and foreign festivals are planned for 2023-2024 (Fondation Gianadda, Zermatt and Riggi Festivals, Il maggiore Intra, etc.) and will depend on the support received from public authorities, the Loterie romande, patrons and other donors.
The Association is currently chaired by Liliane Martin, assisted by a committee composed of Francesco de Angelis, Director, Elisabeth Jean, Roberto Paruzzo and Marcio Carneiro (Artistic Committee). The committee will be strengthened by the end of 2022 with the addition of a co-president (Nicole Michlig Varone) and a cashier (Hélène Berclaz). A few volunteers will be present during the concerts, as needed (cashier, reception, receptions).
Sion, 25 October 2022
For Camerata-Valais, Liliane Martin, President