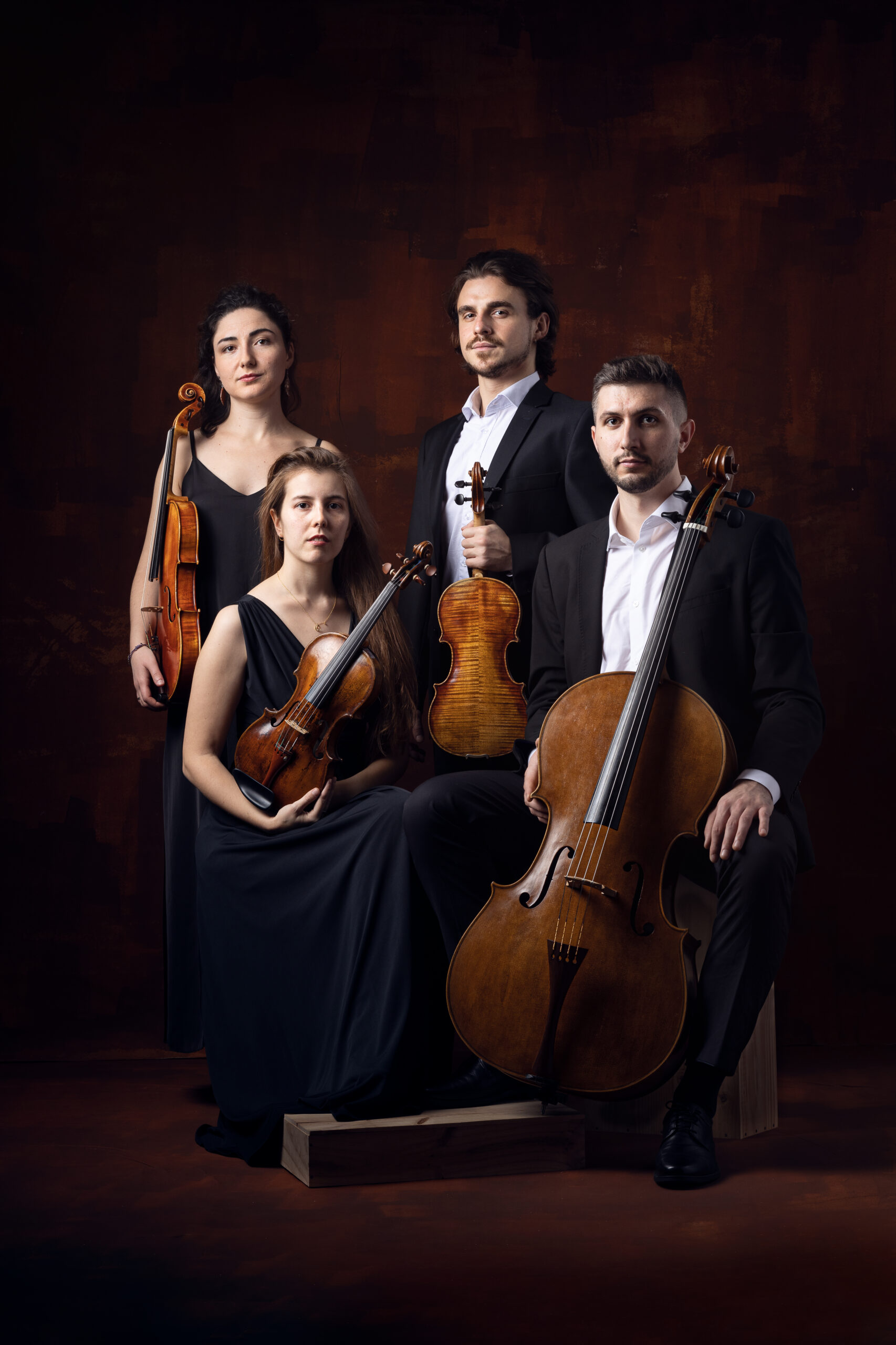 Nathan Kirzon, violin I
Laia Azcona Morist, violin II
Lucia Mullor, viola
Blai Bosser Toca, cello
The Spirea Quartet was founded in 2019 by four students and friends of the Basel Academy of Music with a shared passion for chamber music and furthermore for the string quartet formation. The name Spirea is inspired by the architecture of our string instruments. In order to construct the scroll at the head of the instrument, it requires the so-called golden section or in Latin "sectio aurea". But the golden section can also be seen in a composition and in making music together. Thus, the spiral of the scroll and the golden section form the name Spirea.
Through the different epochs, styles and the historical approach as a focus, they are a very complex quartet. Both in understanding the language and in playing with different bows, they have a wide range of performance practice and chamber music repertoire.
For more than two years they have been coached by Prof. Rainer Schmidt, Anton Kernjak, Claudio Martínez-Mehner and Jirí Nemecek. During this time they received a master class at the Alberto Lysy Academy, under the direction of Adelina Oprean, Silvia Simoniescu and Igor Keller. They received further lessons from the Casals Quartet, Robert Levin and Petr Skalka.
They have performed throughout Switzerland, Spain, Germany and France. Among other things, they actively participate, both in the organization and artistic, in the newly founded Spanish chamber music festival "Chambart". In September 2022 they opened the festival "Encambra't" in Igualda with a quartet concert and their next commitments include concerts in Switzerland, other international competitions and master classes at the Basel Music Academy and abroad.
Most recently, they have been awarded with the first prize in the Orpheus Music Competition in Switzerland. Together with that prize, they will receive a commissioned work by an elected swiss composer and various invitations to music Festivals such as Swiss Chamber Music Festival Adelboden, Festival Musikdorf Ernen or Zunftkonzerte Zürich.