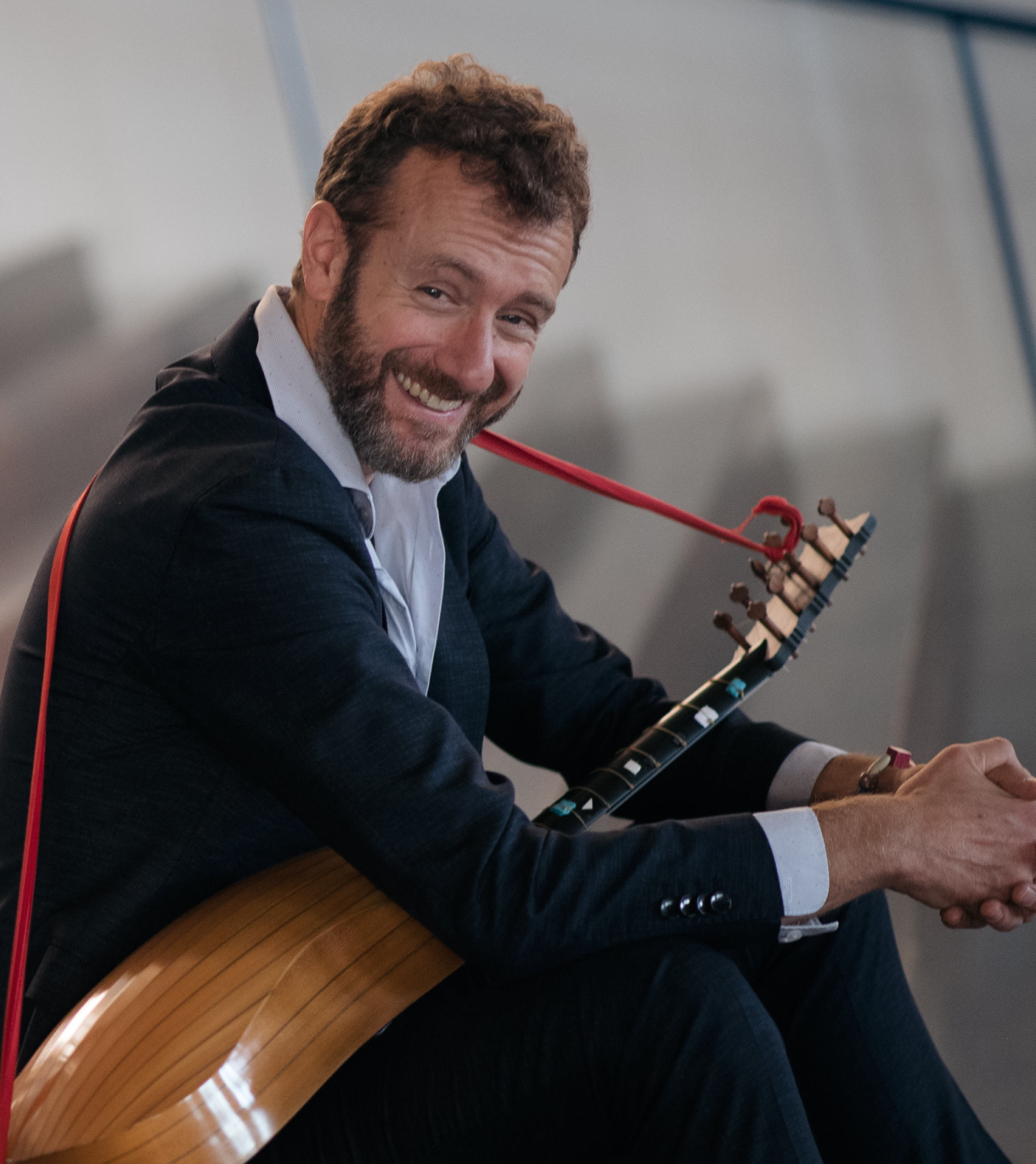 Photo: Daniele Caminiti
My approach to music has always been transversal and I still find myself tackling different repertoires with the same passion and interest of a researcher. The repertoires that have most aroused my curiosity in the past few years have been contemporary electroacoustic music and Italian music of the beginning of the 17th century. However, I never miss the opportunity to explore new paths and to meet musicians with whom to communicate and share.
A long time ago a plucked string tied me to music and to the act of playing: its resonance has helped me give shape to ideas, to get to know myself and has been a strong rope on which to anchor an important part of my life.
I began my musical training as a selftaught musician, concentrating on popular music, rock and jazz. I obtained my diploma in guitar and jazz harmony with Alberto Ferra at the European Music Institute; in classical guitar at the Giuseppe Verdi Conservatory in Milan, with Lena Kokkaliari and Paolo Cherici; and in contemporary music (Concert Diploma) at the High School of Arts in Bern (CH) with Elena Casoli. I studied ancient music and different plucked istruments at the Schola Cantorum Basilensis, composition, performing practice, taking part in masterclasses and advance courses with musicians of great human qualities and musical depth such Jordi Savall, Dave Liebman, Fabio Vacchi, Paul O'Dette and Luciano Berio.
The interpretation of contemporary works, for and with the guitar and lutes, has enabled me to work with many contemporary composers such as Georges Aperghis, Hugues Dufourt, Peter Eötvös, Maurizio Pisati, Ulrich Krieger, Alessandro Solbiati and Giorgio Tedde.
I have gained experience working in different musical contexts, with singers (Cecilia Bartoli, Franco Fagioli, Roberta Invernizzi, Emma Kirkby, Simone Kermes, Sandrine Piau, Andreas Scholl), with conductors (Giovanni Antonini, Pierre Boulez, Peter Eötvös, Pablo Heras Casado, Sir Roger Norrington), with orchestras (Tonhalle Orchester, Orchestra La Scintilla, Venice Baroque Orchestra, ZKO Chamber Orchestra), with classical soloists (Sergio Azzolini, Giuliano Carmignola, Daniel Hope, Paolo Pandolfo, Maurice Steger), with contemporary ensembles (Lucerne Festival Academy) and ensemble of ancient music (Accademia degli Affetti, Cantus Firmus, Chappelle Ancienne, La Corona F r e i b u r g , Collegium Musicum, Freitagsakademie, Hilliard Ensemble, Turicum Ensemble), with jazz musicians (Fausto Beccalossi, Nolan Quinn, Daniel Pezzotti, Daniel Schyder, Gino Zambelli), with actors (Carina Braunschmidt, Steffen Höld, Martin Hug, Ottavia Piccolo), theatrical companies (Cie Bussonnière, Cisco Aznar, Thom Luz, Mathias Weibel), with world music ensembles (Quintetto de Tango Invisibile, Fuich).
I have played as soloist as well as in chamber ensembles and orchestras, working in with a variety of festivals, musical institutions and associations. Among these I would like to mention specifically: "Carnegie Hall" New York, "Philarmonie" and "Konzerthaus" Berlin, "Konzert Saal Philarmonie" Essen, "Elbphilarmonie" Hamburg, "Schwetzingen Festspielen", "Herculessaal" and "Kulturzentrum Gasteig" München, "Semperoper" Dresden, "Tivoli Concert Hall" Kopenhagen, "Concert Hall Mito Art Tower" Japan, "KKL – Lucerne Festival", "Opernhaus" and "Tonhalle" Zürich, "Grosser Saal" and "Stadttheater" Basel, "Kursaal" San Sebastian, "Centro Cultural Miguel Delibes" Valladolid, "Musik-Akademie, "Stadttheater" Klagenfurt, "Sala Verdi" Milan, "Festival della Creatività" Firenze, "Meran Festival", "Russian Theater" Vilnius, "Opera" Dubai and "Philharmonia" Saint Petersburg.
I have recorded for various labels (Deutsche Grammophon, Berlin Classic, Stradivarius, Trilogy, Maine), radios (SWR, DRS 2, Radio Classica, Ö1) and televisions channels (ARTÈ, Rai, ORF1, ORF2, 3sat, SF1).