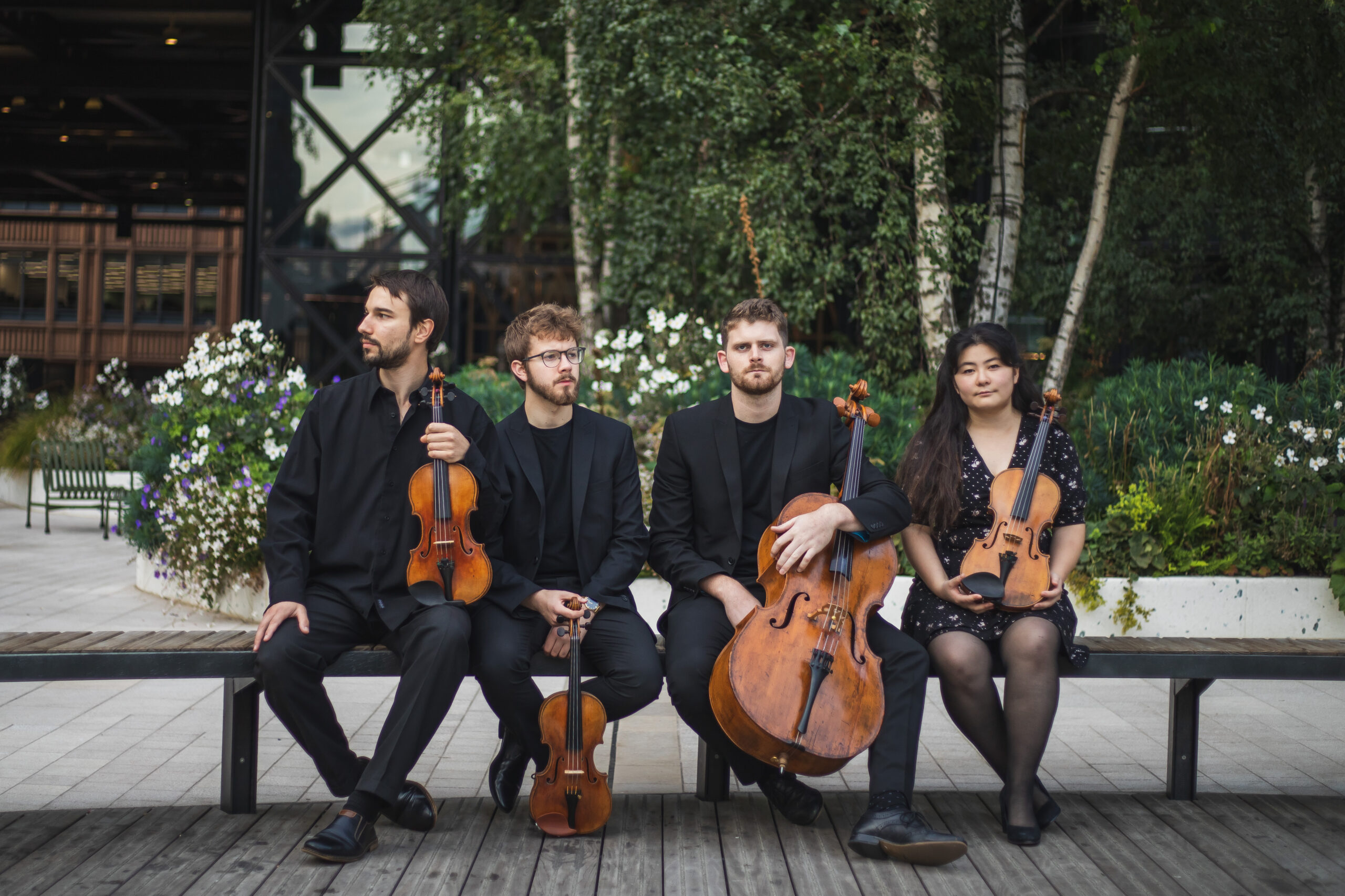 Xander Croft, violin I
Miles Ames, violin II
Inis Oírr Asano, viola
Felix Hughes, cello
"Style, assurance and direction from the first bar – an interpretation whose confidence and polish didn't preclude a sense of real drama." Richard Bratby (classical writer and critic)
2023 Kirckman Concert Society Artists and Winners of the Tunnell Trust Awards 2021, the Elmore Quartet is a dynamic young ensemble founded in 2017 at the Royal Northern College of Music. Since their formation, the Elmore Quartet have received guidance from some of the world's leading chamber musicians including Donald Grant (Elias String Quartet), Petr Prause (Talich Quartet), Henk Guittart (Schoenberg Quartet), David Waterman (Endellion Quartet) and Marc Danel (Quatuor Danel).
In 2020, the Elmore Quartet were designated as Studio Quartet at the RNCM and, later that year, were awarded second prize in the CAVATINA Intercollegiate Chamber Music Competition in Wigmore Hall. In 2021, the Quartet were appointed as Junior Fellows in Chamber Music at the Royal Northern College of Music, a position they currently still hold. Over the last two years, the Quartet have enjoyed recording for BBC Radio 3 as well as performing regularly across the UK at venues which have included Wigmore Hall, Conway Hall, the Pitville Pump Room and Oxford's Holywell Music Room.
The Quartet are also proud to have launched the Elmore Chamber Music Festival, which now takes place annually in August. This year, the Quartet have enjoyed competing in the final of the Irene Steels-Wilsing International String Quartet Competition in Germany and are also delighted to have recently become members of the Netherlands String Quartet Academy (NSKA).