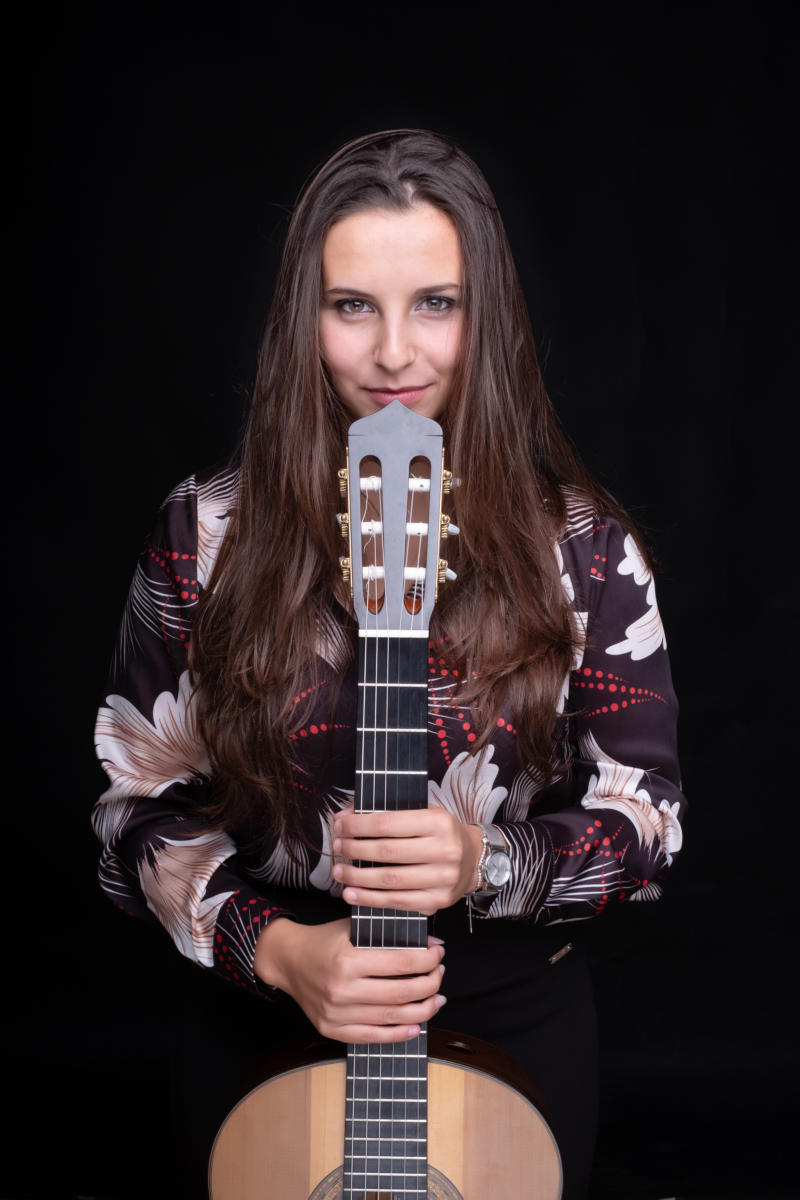 Carlotta Dalia was born on 25 August 1999 in Grosseto.
She began studying classical guitar at the age of 8 with M° Alessandro Benedettelli, continuing her studies under the guidance of M° Aniello Desiderio, M° Carlo Marchione and Mº Giampaolo Bandini.
In 2017, she obtained the Diploma of Merit by attending M° Oscar Ghiglia's courses at the prestigious Accademia Chigiana in Siena.
Carlotta is currently studying in Laura Young's class at the Mozarteum in Salzburg. She gave her first solo recital at the age of 12 and has performed in Festivals and Concert Seasons in Italy, Spain, Germany, Austria, Portugal, Poland, Hungary, Sweden, Russia, Ireland, Switzerland and Japan etc..
At the age of 16 she recorded her first CD, entitled "Gran Solo", presented at the radio studios of Radio Vaticana, in the program "L'arpeggio" conducted by Luigi Picardi and then published in the most important world stores of online distribution by the DotGuitar/CD record label. In 2018 he released his second record for the music magazine "Suonare News". In 2020 she recorded two new recording projects, for DotGuitar/CD, "Angelus" and "Ida Presti complete solo guitar music" which will also be attached to and distributed by GuitArt magazine during 2021. The CD "Angelus" takes its name from the Sonatina in three movements dedicated to her by Maestro Gilardino in August 2017. In 2021 the record label DotGuitar/CD will name a series after her, the Carlotta Dalia Edition, containing 3 CDs. She has been a guest on radio stations such as Rai Radio3, La radio della Svizzera Italiana, il Sole24Ore. She took part in Sergio Assad's project entitled "The Wall", with artists of the calibre of Yo-Yo Ma.
Since the beginning of her artistic career, she has won more than 40 prizes in national and international competitions including:
1st Prize and Audience Award – International Competition "Uppsala Guitar Competition", Sweden
 1st Prize, Special Prize for the best Italian performer and Special Prize for the best interpretation of a piece by Leo Brouwer – International Competition International Competition "Niccolò Paganini", Parma
1st Prize at the International Altamira Guitar Competition – Hong Kong, China
1st Prize at the International Florida Guitar Competition – Miami, USA
3rd Prize – 61st International Tokyo Guitar Competition, Tokyo, Japan
3rd Prize – International Competition "Alexander Frauchii" – Moscow, Russia.
1st Prize at the Concurso International de Guitarra de Madrid.
Carlotta plays guitars by luthier Andrea Tacchi and from 2021 she is member of Si-Yo Music Foundation in New York.
Since 2016 she is a D'Addario Artist