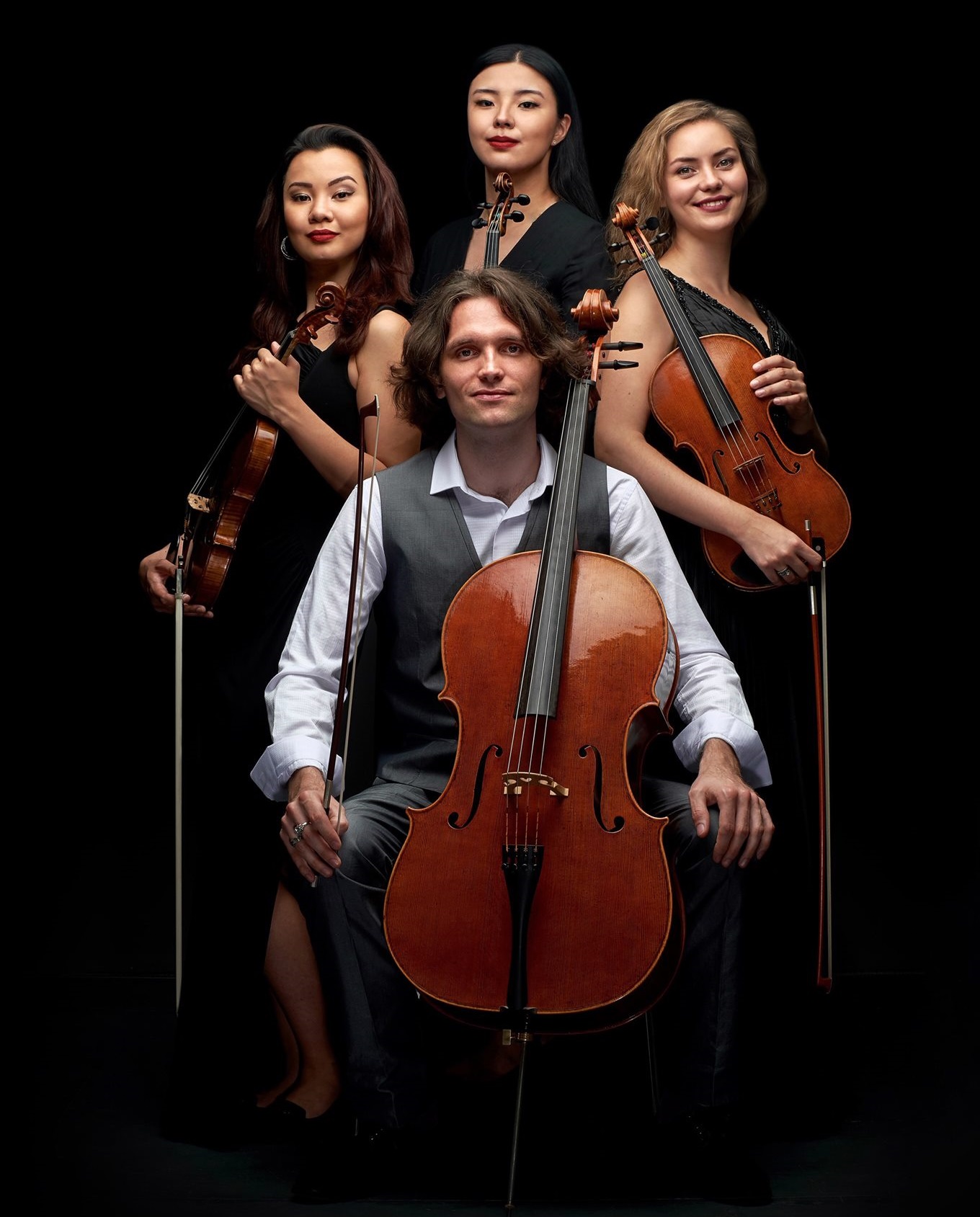 Janay Tulenova, violin I
Zarina Imayakova, violin II
Liliya Nigamedzyanova, viola
Melchior Saux, cello
Formed in 2018 in Vienna and rich of three nationalities, Kazakhstan, Russia and France, the Artel quartet represents unified diversity through one musical language. Named after the traditional Russian associations of workers, craftsmen and artisans working collectively in absolute equality, the Artel Quartet reunites four musicians from widely different backgrounds and aims to promote a cultural dialogue between East and West.
With a lively and passionate approach to music, a broad and original repertoire, the Artel quartet is one of the rising European string quartets.
Studying in Vienna in the class of Johannes Meissl and working regularly with Oliver Wille and Ebehard Feltz, the Artel quartet aims to develop personalities through the deepest traditions of chamber music playing.
The Artel quartet is the guest of prestigious venues and made its debut this year at the ORF Radiokulturhaus with a series of Live-Streamed concerts, was invited to the Chopin festival, the ISA Festival, Junge Talent in Haydn Haus, the Academia Perosi, and performed in Russia, Luxembourg, France, Germany, Italy.
Eager to expand artistically, the Artel Quartet works in close relation with composers and directors as well as on new performances. Taking part in events and master classes all over the world, the Artel Quartet had the opportunity to work with musicians such as Günter Pichler, the Quatuor Ebène, the Jerusalem Quartet, Alastair Tait, Isabelle Charisius, Reinhard Latzko, Tim Vogler, Michael Vogler, Volker Jacobsen, Konstantin Heidrich, Wolfgang Redik, Are Sandbakken, Avri Levitan.