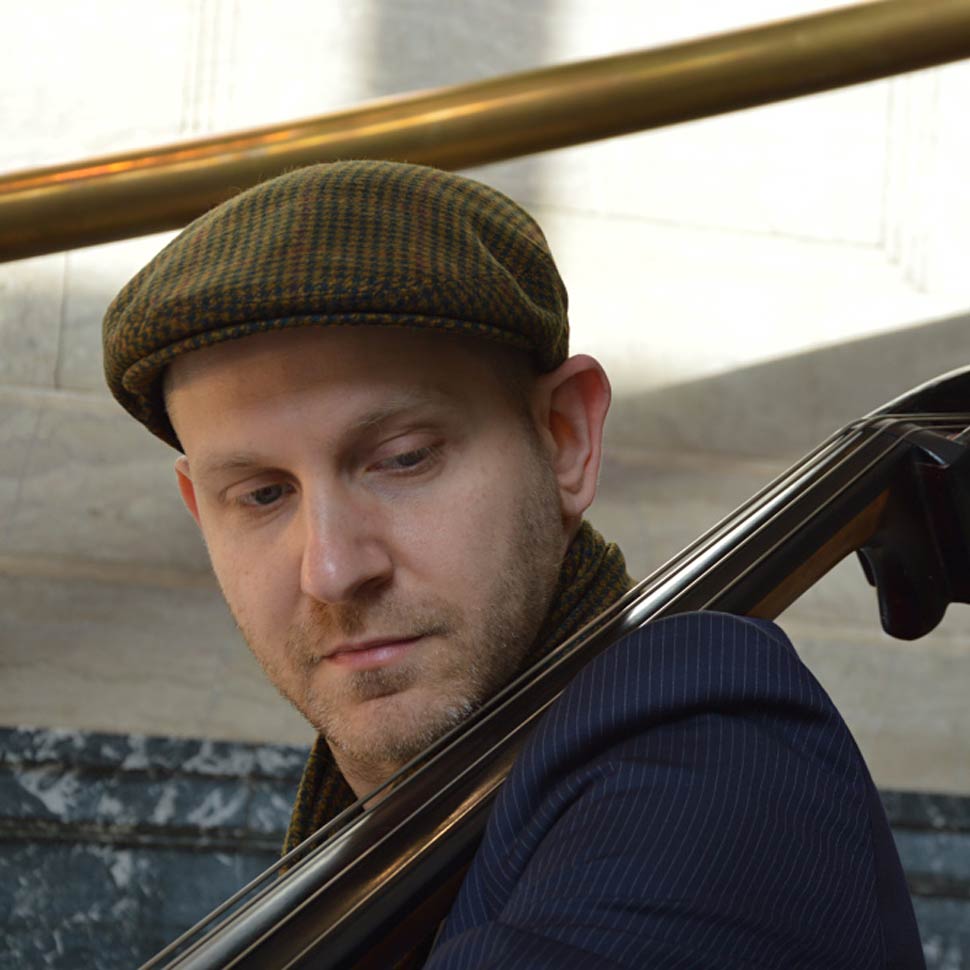 Ariel Eberstein was born in Buenos Aires, Argentina in 1979 and discovered the double bass at the age of 16. In 1997, he began studying the double bass in Buenos Aires with Miguel Angel Villaroel. Soon, his commitment to this instrument deliver him in 2002 a scholarship from the Fundacion Antochas (Buenos Aires) to study in Vienna with James Rapport and Andrew Ackerman.
Later on he moved to Belgium in order to continue his studies at the Koninklijk Conservatorium Brussels with Frank Coppieters, where he completed his master's degree after an year exchange Erasmus program at the Koninklijk Conservatorium Den Haag in 2010 with Quirijn van Regteren Altena. After his formal studies he continues improving his musical skills through masterclasses and private lessons.
He has worked with many world-famous conductors and has been playing in the most important Belgian orchestras such as the Vlaamse Opera, National Orchestra of Belgium, De Filharmonie, Orchestre Philharmonique de Liège, Opera Royal de Wallonie, De Munt/La Monnaie and Brussels Philharmonic.
Ariel has given concerts in the most important concert halls of Europe and America, including the Concertgebouw (Amsterdam), Musikverein and the Concerthaus (Vienna), Festspielehaus (Salzburg), Cité de la Musique (Paris), Bozar and Flagey (Brussels), Polin (Warschaw), (London), (Edinburgh) and the Teatro Colon (Buenos Aires).
Since 2014 Ariel specialize in Tango leading the Brussels based quintet SONICO. This project specialized in the oeuvre Eduardo Rovira, a visionary figure of contemporary tango often known as "the other Astor Piazzolla". In August 2018, SONICO presented their first album "Eduardo Rovira: La Otra Vanguardia" in Buenos Aires as part of the Tango BA Festival as the main international guest at the festival, confirming its reputation as one of the most innovative tango ensembles in Europe!
In March 2019, the European release of SONICO's album will take place at BOZAR as the only European group invited to the new concert series entitled "100 years of Tango." At the moment, Ariel Eberstein develops a strong artistic relation with the choreograph Lisi Estaras. In juli 2018 They worked together at the Workshoops from Les Ballets C de la B (Gent, Belgium). In august 2018, Estara's production "Sapiens Rabia" at the San MArtin theater ballet (Bs As, Argentina) counted with a solo double bass recording as part of the music. Their last colaboration, from october 2018, untitled "D-EFFECT for 3 young female dancers, 2 dancers with down syndrom and a double bass player" from Paserelle vzw (Kortrijk, Belgium) inclueds Ariel Eberstein first stage performance experience. In Februari 2017 and 2018, Ariel Eberstein has been the curator-artist of the Tango evening during the POLIN Festival in Warschaw (Poland) with a programe that rescue the important role of judaism for the development of the Tango.
Ariel Eberstein recorded Fernando Otero´s (four time Grammy award-winner) last album "Ensamble" in December 2018. He also performed as part of Mr Otero's European tour 2017 . In july 2018 Mr. Eberstein got invited by, the world famous pianist, Martha Argerich to be part of the closure concert at her newest festival in Hamburg.