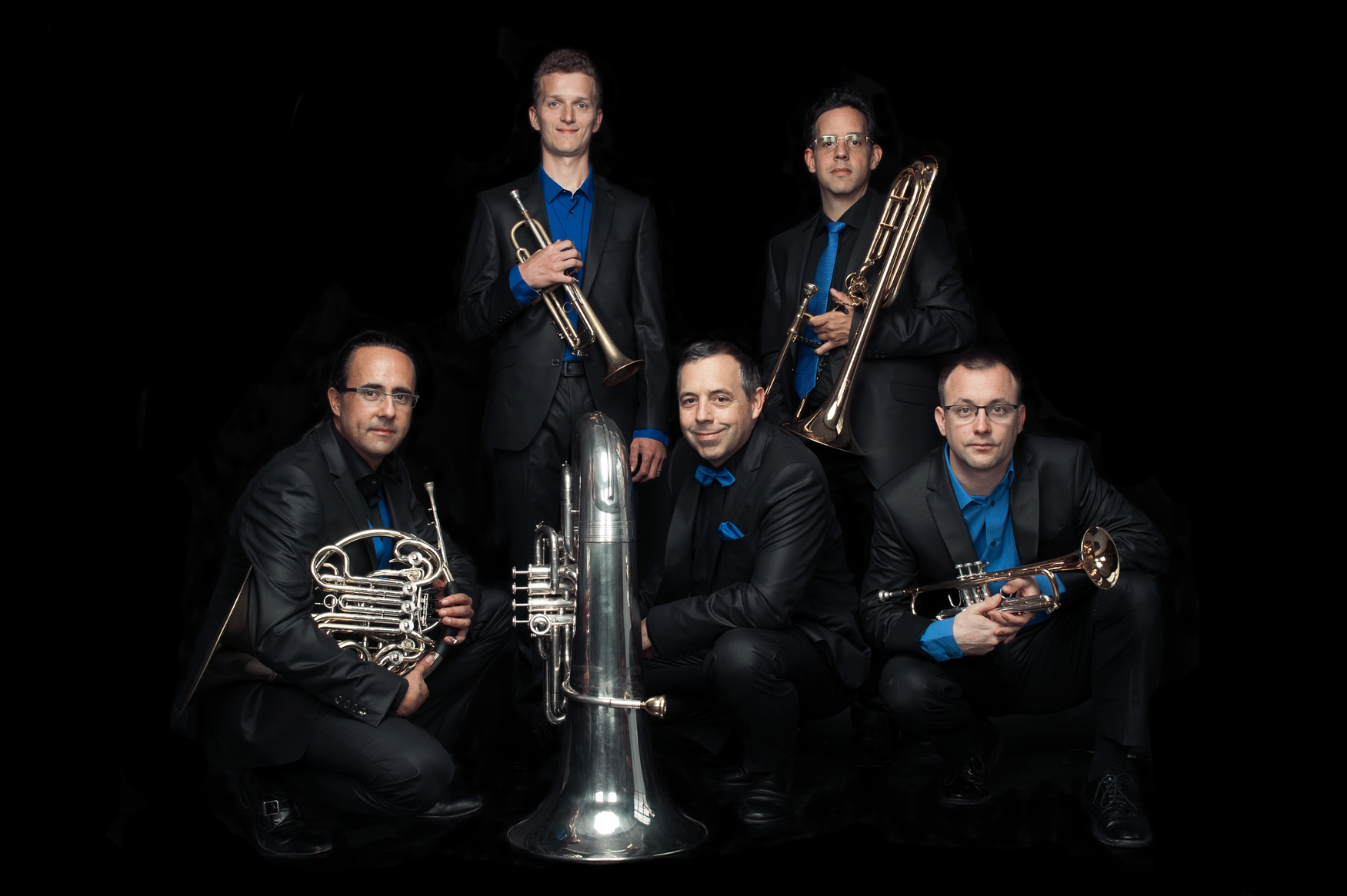 « The overall ensemble is nothing less than first class »
International Trumpet Guild
Like the famous Swiss army knife, the Geneva Brass Quintet is a multi-purpose, multi-talented chamber music group. Its marvellously warm sound is equally good when sharply rendering a Bach fugue as when sweetly murmuring a Cosma ballad or a traditional Alphorn melody. The Quintet can be both powerful, when playing alongside an organ, big band or wind section, and full of sweetness, when accompanying a choir, panpipes or even a harp. The ensemble also likes to join forces with other disciplines, such as history or science, and children are not forgotten: two shows have already been created especially for them.
The Geneva Brass Quintet is an ardent supporter of Swiss culture and regularly includes works by Swiss composers in its programmes, such as Richard Dubugnon, Jean-François Michel, Étienne Crausaz or Daniel Schnyder. It regularly commissions new pieces to expand its repertoire.
The ensemble wishes to present this original repertoire during its frequent international tours, thus positioning itself as one of the leading Swiss ambassadors of chamber music for brass. In particular, it has been invited to the Cervantino Festival (Mexico), to SliderAsia (Hong Kong), Jeju International Wind Ensemble Festival (South Korea) and to the Brassurround Festival (Spain).
At ease in all fields, the quintet has performed in all sorts of circumstances: on a boat on the underground lake of Saint-Léonard, with their feet in the water at the Bains des Pâquis in Geneva, in shanty towns in South Africa and on the Great Wall of China, but they have also performed in the world's most beautiful concert halls, such as Geneva's Victoria Hall.
Created in 2001, all the Geneva Brass Quintet's musicians hold master's degrees from the Geneva University of Music. They participate in the organisation of the Geneva Brass Festival, an international event dedicated to brass which has taken place in Geneva every year since 2010. Regularly invited to Espace 2 radio station's Schubertiade, the Quintet has recorded three discs which reflect its character: eclectic. These have been very well received by the critics.
The Geneva Brass Quintet is supported by the City of Geneva.