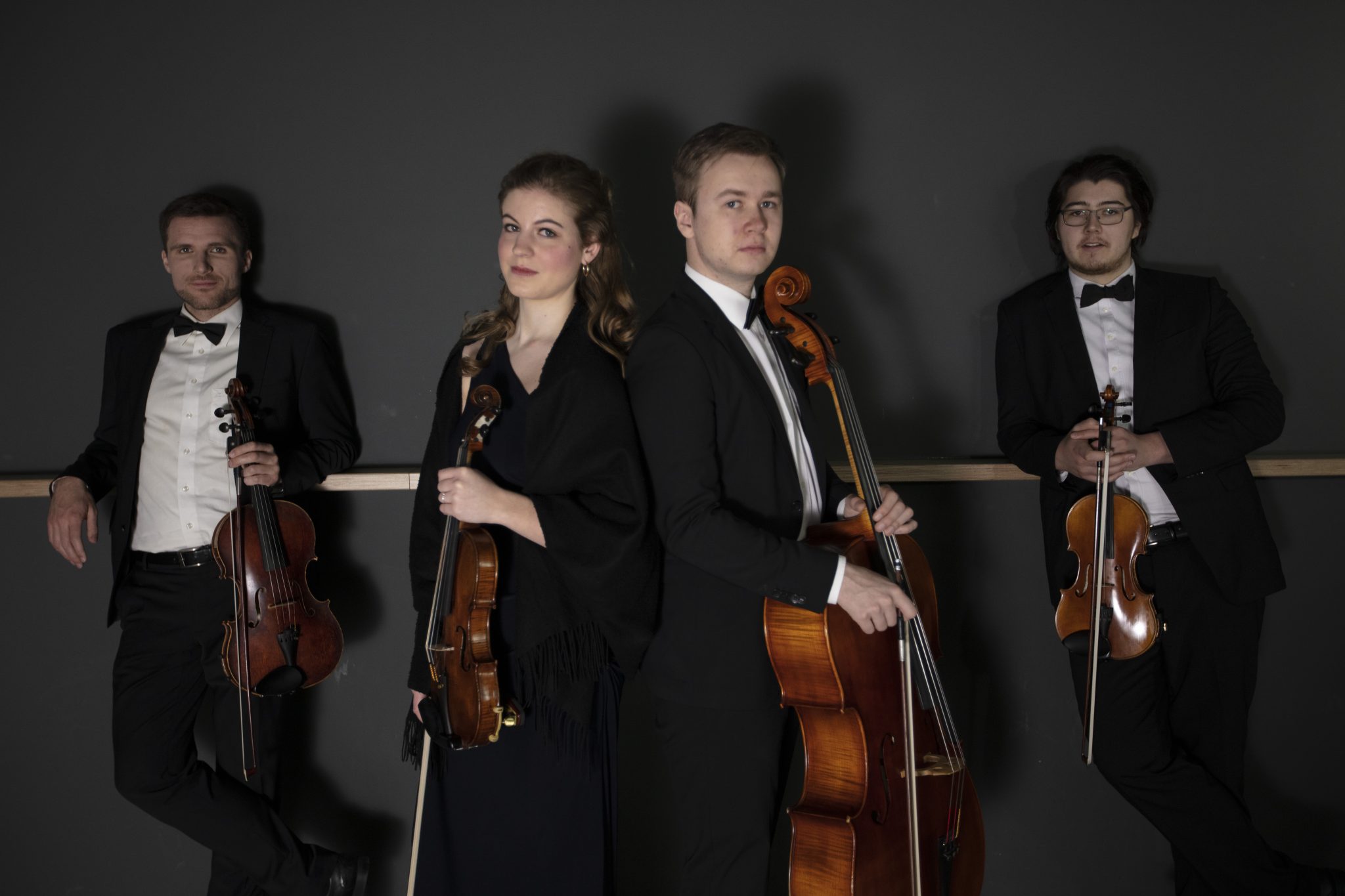 Fanny Anaïs Schell, violin I
Mario Sögtrop, violin II
Raphael Schönball, viola
David Fuchs, cello
In typography, the "Alinea" symbol stands for the beginning of a new thought. The young Alinea string quartet, based in Munich and founded in 2019, has set out to break away from the norms of both how and where to perform the great quartet repertoire.
In conversational recitals, they do not only perform their music but also share their personal thoughts and insights into the music – thus further breaking down the barriers that keep new listeners out of classical chamber music. Apart from studying and performing the traditional quartet repertoire, the Alinea Quartet strives to explore further by creating their own arrangements of both classical and jazz music.
At the XII. Concorso Musicale Cittá di Filadelfia, the Alinea Quartet won the first prize and the special prize "Paolo Serrao". The ensemble has received advice and input from renowned musicians such as the Goldmund Quartet, Prof. Jörg Widmann, Prof. Oliver Wille from the Kuss Quartet and Prof. Eckart Runge from the Artemis Quartet. In 2020, the Alinea Quartet was granted a scholarship by the Brahms Society Baden-Baden. In 2021, they were nominated for the Special Prize "Ton und Erklärung" by the Kulturkreis des Bundes der deutschen Industrie (Cultural Society of the Federation of German Industry). In the season of 2021/22, they are participating in the professional training programme of ProQuartet in Paris.
The Alinea Quartet was selected to join Le Dimore del Quartetto in 2021. They have also been selected for MUSA – European young MUsicians soft Skills Alliance, a professional training project ideated by Le Dimore del Quartetto and co-funded by the Erasmus+ Programme, aimed at enhancing musicians' entrepreneurial skills. In the season of 2021/22, they will be giving concerts in Italy, Portugal, France, Poland and the United Kingdom.