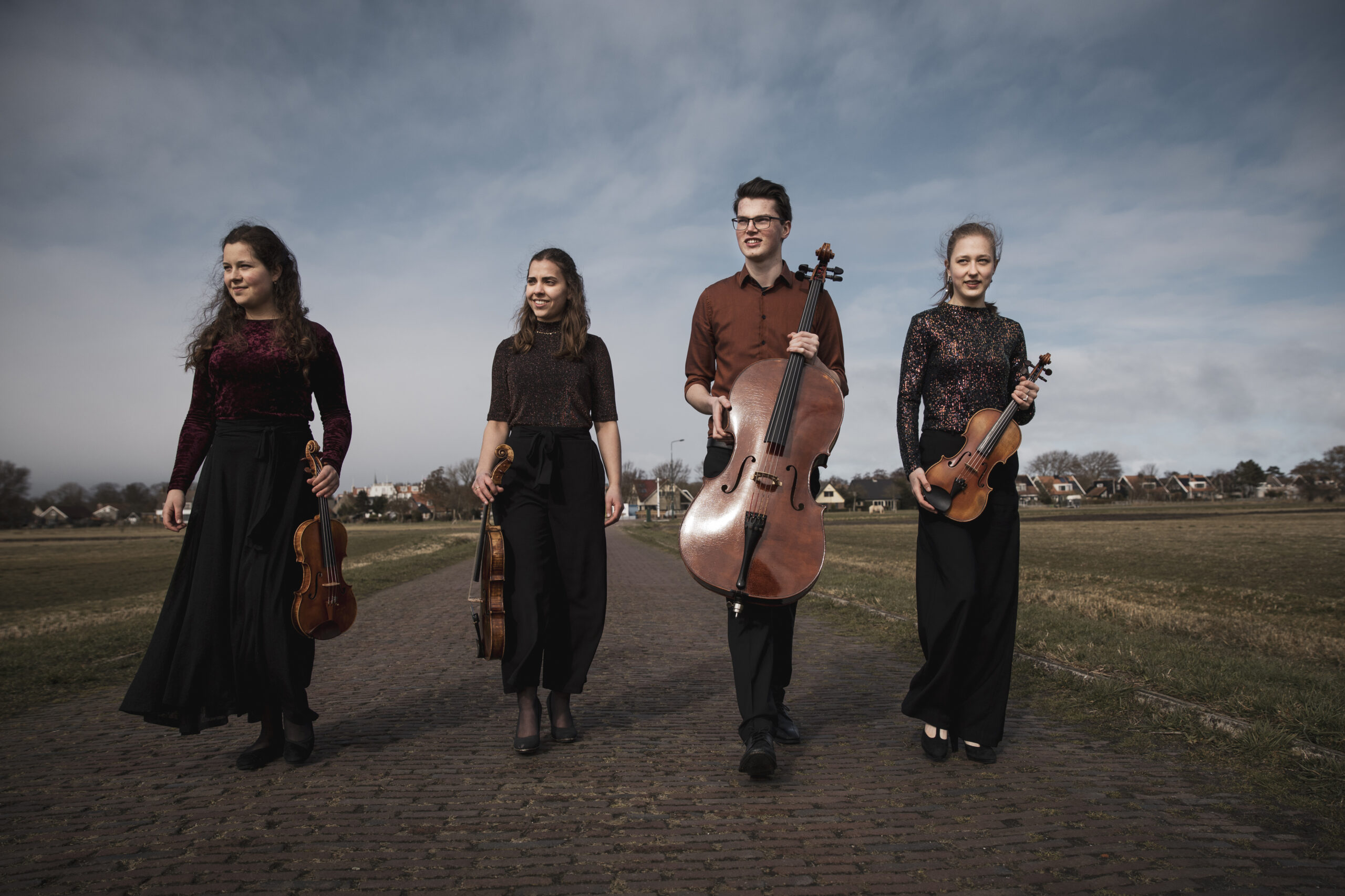 Salomé Bonnema, violin I
Iris Kengen, violin II
Sedna Heitzman, viola
Jurre Koopmans, cello
The Viride Quartet was formed in April 2017 by Salomé Bonnema (2001), Iris Kengen (2000), Sedna Heitzman (2000) and Jurre Koopmans (2002). They met at the School for Young Talent of the Royal Conservatoire in The Hague, at which they have continued to do their bachelor studies. Not only do they play together regularly, they also have a strong bond with each other and have been good friends since the beginning of their high school career.
The quartet has developed strongly over the past three years, thanks to inspiring lessons from members of the Matangi Quartet and the Dudok Quartet, Lucia Swarts, Peter Brunt and Ilona Sie Dhian Ho and thanks to their participation in the Orlando Festival in 2018 and 2019 and in the Zeister Muziekdagen in 2019, where they attended masterclasses from, among others, Sigiswald Kuijken, Ilya Hoffmann, Larissa Groeneveld, Shunske Sato, Henk Guittart, and members of the RusQuartet and the Jerusalem Quartet.
In 2018, the Viride Quartet won the second prize during the National Finals of the Princess Christina Concours. They have performed several times at the Podium Witteman, a program on national television, and played in famous halls such as the Spiegelzaal and the Kleine Zaal of the Royal Concertgebouw, Muziekgebouw Eindhoven and Stadsschouwburg Nijmegen. In 2019 they received a string quartet grant from the Kersjes Fund.