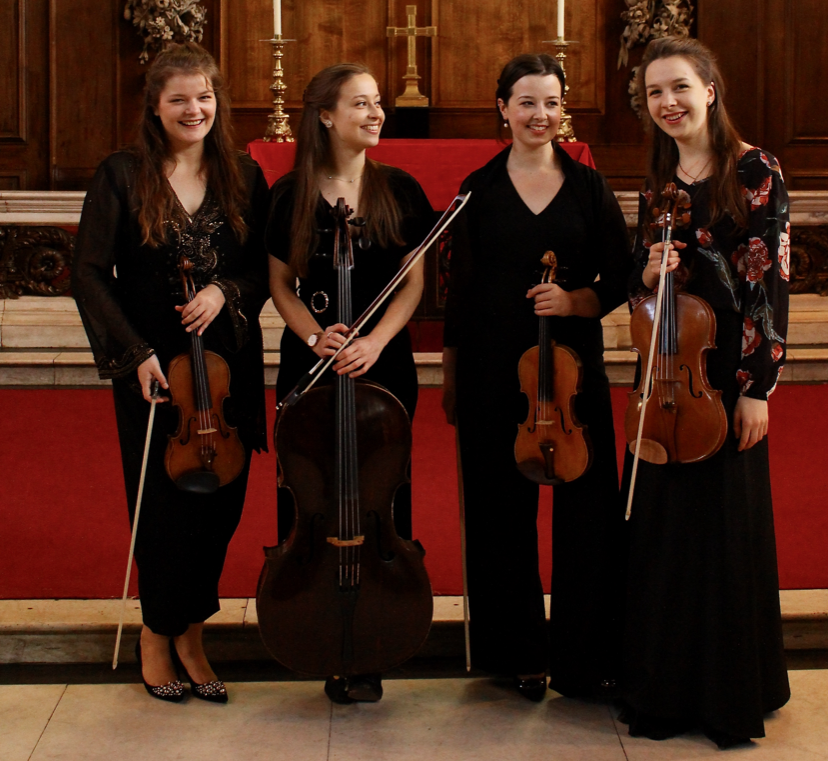 Maja Horvat, violin I
Esther Park, violin II
Kinga Wojdalska, viola
Wallis Power, cello
The Brompton String Quartet is comprised of musicians from the UK, Poland and Slovenia. They were winners at the 2019 St Martin-in-the-Fields Chamber Music Competition and are featured Making Music Artists.
Since forming in October 2018, the quartet have received coaching from artists such as Alfred Brendel, Daniel Rowland, Mats Zitterqvist, Heinz Holliger, Rafael Todes, Jon Thorne, Leonid Kerbel and the Marmen and Harlem Quartets. They seize every opportunity to learn and develop and look forward to participating in the Wye Valley Summer Residency next year.
All members of the quartet are also versatile soloists and orchestral musicians, having participated in festivals and courses including Prussia Cove, Midsummer Music Festival, Chipping Campden Festival, The St Endellion Festival and Stift International Music Festival. Prizes won by individual members include a Cambridge University Instrumental Award, 1st prize at the 13th Concorso Internazionale per Giovani Strumentisti and 3rd prize and the Szymanowski award at the 1st International Karol Szymanowski Competition.
The Brompton Quartet explore a diverse range of repertoire, having performed at venues around the UK and Europe. They have appeared at Conway Hall, St Martin-in-the-Fields, The Elgar Room Royal Albert Hall, King's Place and the Red House, Aldeburgh. They are delighted to have recently been selected as Park Lane Group Artists for 2020 – they gave their first PLG concert in October 2020 at St James's Piccadilly.