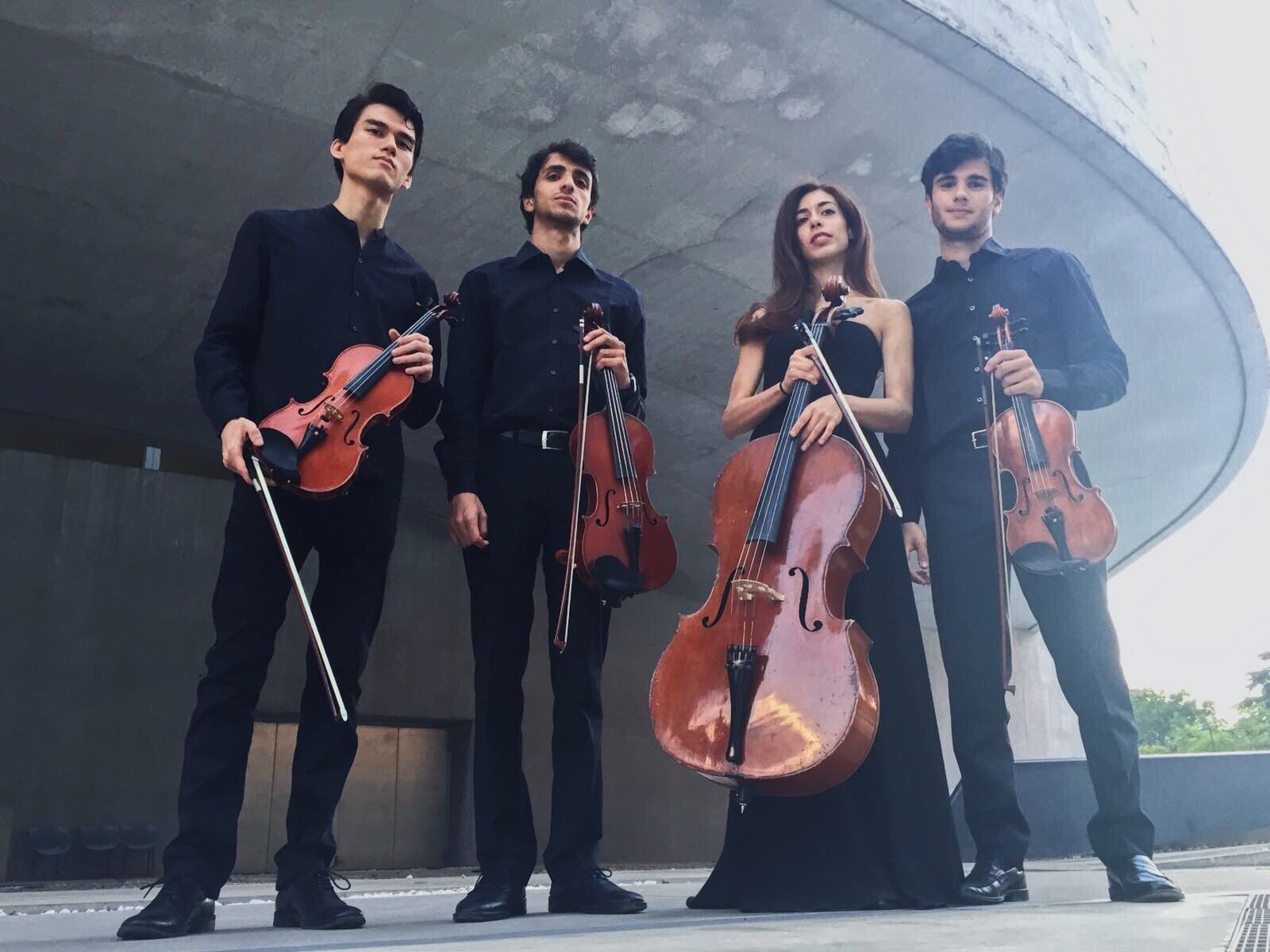 Elia Chiesa, violin
Giacomo Del Papa, violin
Alessandro Acqui, viola
Silvia Ancarani, cello
The Quartetto Eos, winner of the "Farulli Award" of the Music Critic "Franco Abbiati" 2018, was born in 2016 from the meeting of four young musicians inside of the Santa Cecilia Conservatory of Rome. The Quartet has participated in chamber music masterclasses with the Masters Francesco Fiore, Emil Rovner, Patrick Juedt (ECMA), Lawrence Dutton (Emerson Quartet), Marcello Bufalini and David Romano. In spite of his recent founding, the Quartet already collaborated with Calogero Palermo and Gustavo Nuñez (first clarinet and first bassoon of the Royal Concertgebouw Orchestra) and performed at the Academic Hall of the Conservatory of San Cecilia, the Auditorium of the Seraphicum, the Teatro Off Off, the Teatro Ponchielli in Cremona, the Teatro Garibaldi in Caserta and other.
It also collaborates periodically with important musical institutions such as the "Società del Quartetto di Milano", the "Istituzione Universitaria dei Concerti" (IUC), the "Gioventù Musicale d'Italia", the "Associazione Mozart Italia Sede di Terni" and the "Associazione Filarmonica Umbra".
In 2018 Quartetto Eos was a guest on the national radio with the programs "Radio3 Suite" and "La Stanza della Musica" (RaiRadio3). In 2019 they received a special mention in the "Sergio Dragoni" National Competition for String Quartets. Since 2017, the Eos Quartet has been selected to be part of the "Le Dimore del Quartetto" project and has been admitted to the advanced specialization course for String Quartet in the Quartetto di Cremona class at the "Accademia Walter Stauffer".